If your business's continuation – and therefore success – depends on mission-critical parts, you know that every second you're down is like throwing away money. Planes are grounded. Production ceases. And everything just seems to grind to a halt.
However, if you have a contingency plan in place to get operations back up as quickly as possible, you can minimize downtime, save money, and continue to serve your customers business-as-usual.
You can accomplish this by having a critical parts delivery or flexible on-demand warehouse plan in place.
What Is Critical Parts Delivery?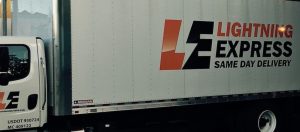 Between 60 and 70 percent of service calls require spare parts. Even the practice of securing a "service contact" complicates spare parts logistics. Service contracts usually stipulate certain levels of service demanding a repair be made in 24 hours, four hours, or even sooner.
That's fine if you can wait that long. But most businesses would rather be up and running far sooner. That means a scramble to get the right parts on location as quickly as possible.
By partnering with Lightning Express, you can ensure immediate delivery of spare parts in one of two ways:
1. You can store spare parts in our 24-hour secure, climate-controlled warehouse in Baltimore for immediate dispatch to your breakdown location 24/7. Or,
2. You can use our 24/7 on-demand shipping services to pick up spare parts from one location and deliver them to your breakdown location.
What Is  Flexible On-Demand Warehousing?
On-demand warehouse service saves time and valuable resources, eliminating the need to invest in Warehouse space, Technology, Equipment & Staff.
We manage the labor, space and systems in order to provide you the agility to surge your supply chain and reach your market's demands. Then when peak seasons are over you can flex back down to mitigate carrying costs in your supply chain. Finished Goods, Parts, Raw Materials, Vendor-Managed Inventory Operations, Value Added services, Returns, Reverse Logistics , Special Projects and Consumer Goods.
Alternatively, you can choose to take advantage of our first mile, last mile same-day trucking services to finish delivery of your goods throughout the Baltimore, DC and Philadelphia areas.
Get A Lightning-Fast Quote On A Critical Parts Contingency Plan
You never know when you're going to break down. But having a plan in place will minimize the financial impact and ensure you're up and running as quickly as possible.
If you're interested in a critical parts delivery or flexible  on-demand warehousing contingency plan in the Baltimore, DC or Philadelphia area, contact Lightning Express for an instant quote at (410) 477-6100.